The team at BTDW is committed to customer service, drawing on the experience of our skilled artisans to ensure your window and doors are manufactured to the highest standard.
When you purchase timber windows and doors from BTDW you have the confidence in knowing that all our products are manufactured to comply with Australian Standards ( AS 1288 & AS 2047 ) and backed by a seven year industry warranty. These products are continually being improved to meet the expectations of our customers and tailored to individual requirements. If it's security or energy efficiencies BTDW has the solutions.
Timber
The team at BTDW has a commitment to producing environmentally sustainable products. The timber we use in the manufacture of our windows is selected from managed plantations.

Timber windows have a proven life cycle of 100 years; it is unlikely that Aluminium or U.P.V.C could match this, as they are difficult to repair and apply new protective coatings, which usually results in the whole window or door being replaced.
Windows and doors manufactured in timber have a huge advantage environmentally over alternative materials commonly in use. This can be measured by the embodied energy used, the embodied energy measures the total energy used to transform raw material into ready to use building products. It is expressed in megajoules per kilogram (Mj/kg). The direct effect of the amount of energy being used to convert the raw material into a usable product reflects in the amount of carbon released into the atmosphere. If you also consider the amount of carbon dioxide being stored during the manufacture of timber the benefits of timber become considerable.
Finishes
BTDW has a long standing relationship with Sikkens woodcare products. We seal all our products using a Sikkens WP560 water-borne translucent basecoat. Sikkens are committed to delivering Best Value products that provide the maximum benefit for the least environmental and economic cost. Best value is a concept that recognizes the importance of the future cost in;
Use
Environmental cost
Purchase
Disposal
These factors are assessed over the whole life cycle of the product to enable a genuine environmental and economic cost to be considered and provide genuine Best Value.

Warranty
At BTDW all the products we manufacture are produced in accordance with the relevant Australian Standards (AS1288 2006 & AS2047 2014). All products are covered by a seven year industry warranty. So when purchasing your timber windows and doors from BTDW you have the confidence in knowing your products will perform.
Security
Home security is becoming a more important issue to home owners. BTDW has recognised this and offers features and benefits as standard or for an additional cost providing extra security for your home. We can fit proprietary products on request, such as security screens and Winkhaus multipoint locking systems, just ask one of our sales staff. Some of the standard security features are;
Bi-Fold Doors
Centor or Brio flush bolts, keyed to the bottom & non- keyed at the top.
Delf mortice lock with euro cylinder fitted to all access doors.
Double Hung
Bi-Fold Windows
Centor or Brio keyed flush bolts to the bottom of the sash.
Whitco 25 keyed handle fitted to the hinged sash.
Awning Windows
Compliance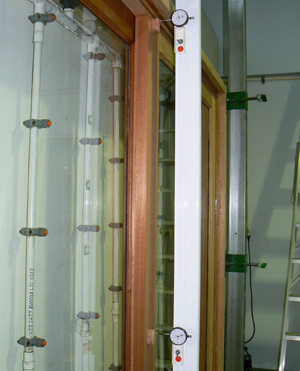 All windows fitted within residential buildings must comply with AS2047 1999 & AS1288 2006. BTDW are committed to providing products that meet and exceed these standards, in order to achieve this BTDW undertake extensive research and development.
All our product lines are tested on an N.A.T.A approved test rig, testing their performance in regard to water penetration, air infiltration and the ultimate strength of the window assembly.