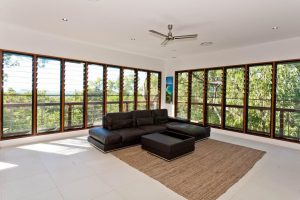 Breezway® Altair® Louvre windows are available from Brisbane Timber Doors and Windows and are an innovative, energy efficient window option for bringing natural light and fresh air into contemporary Queensland homes.
Manufactured from non-corrosive materials, their modern design offers superior aesthetics and with blades that open close to horizontal, Altair Louvres are ideal for capturing cooling breezes to help keep a comfortable indoor environment without the need for artificial air conditioning. When closed, Altair Louvres seal tight to provide superior wind and water performance and offer a range of glazing options to suit Australian climates.
Breezway Louvres can be fitted into timber surround frames to match existing frames within the home and when installed with timber blades they can help block out the hot sun in summer months to keep the home cool whilst providing privacy at the same time for household occupants.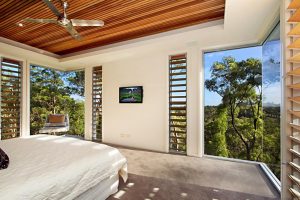 Home automation is a growing trend and Breezway is proud to offer its sleek, elegant and sophisticated award winning Altair Powerlouvre™ Window. The Powerlouvre Window is easy to operate in high, out of reach locations. With no external rods or motors, Powerlouvre Windows can be controlled by the Apptivate Control Unit which allows the operation of Powerlouvres by a touch sensitive wall plate, remove control via a Powerlouvre App, or automatic operation in response to temperature or timer events to easily maintain comfortable indoor temperatures.
Additional security features are also available including keylocks, security bars, and insect or security screens to further protect your home from bugs or intruders.
Alternatively the Stronghold System is a logical inclusion for adding extra strength and safety in multi-level buildings or balcony enclosures. The Stronghold System mechanically retains blades without obstructing outdoor views, is designed to withstand harsh weather, and is compliant with the Fall Prevention requirements set out by the Building Code of Australia.